Should i offer my baby some water?
You should offer your child water freely as much as he/she wants. Some children prefer to drink sweetened beverages. This is not advised and might be harmful on the long term.
Generally, offer your child the same water you are drinking.
If you are giving your child bottled water, review the fluoride content of the water. Fluoride is a mineral needed to prevent dental caries and is a component of our bones. Your child needs a minimum of 0.3mg/liter if his/her age is 6 months to 3 years, 0.65mg/liter if his/her age is 3 to 16 years. If your child's drinking water contains fluorides less than what was just defined, ask your doctor or call 2356 for fluoride supplementation advice.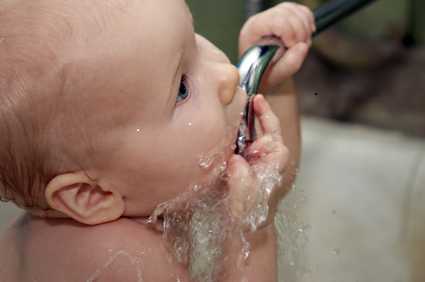 Your Baby checkup
Is my child developing normally?
what are the vaccinations that he should have taken until now?
Generate a report for my baby.
Birthdate *
Track Your Baby Vaccinations
Receive reminders by email for the Vaccination timing
Find Your Baby name
Mohandessin
21 Batal Ahmed Abdel Aziz St, 3rd floor
Telephones
01002195777
01000012400
0233048350
Beverly Hills
Beverly Hills, Building 29 services, behind Super Market Al Mokhtar, floor 1.
Telephones
El Tagamo3
Elegantry Mall, Unit 221
Telephones
01000012800 01000884592
Al Sheikh Zayed
Al Sheikh Zayed - Entrance 2,Downtown Mall - In-front of Spectra ,First Floor - Clinic 113
Telephones